"Mansfield is a very arts-centered community," says Sandra Sutherland, superintendent at the Richland School of Academic Arts. And she's right. The mid-sized Ohio town supports several theatres, a symphony orchestra, a yearly arts fair and more. Mansfield is also home to this nationally-known, arts-based charter school that brings art to students who want it, need it, and might not otherwise have access to it.
The school opened as the Richland Academy School of Excellence in 2010 in a downtown location, but quickly outgrew the space and needed a new identity. Sandra says they started looking for a new home as soon as she started in 2012. They couldn't purchase land and build as that was cost prohibitive, so thus began a four year-long hunt for the perfect building for the Richland School of Academic Arts. 
The building that finally struck them as being exactly what they needed had lived many lives before. The building had most recently housed a large church along with several other tenants including an insurance company, a home nursing company, and an eye doctor. What it was, was big. "This could have a theatre, a dance studio, a music studio, an art studio…we had room to grow," says Sandra. The building was also set far back away from the road, important on the busy thoroughfare where it was located. And it had a lawn that could be used for recess. But most importantly, space.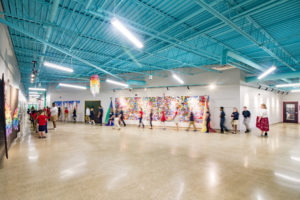 "In the end people would tour the building and say, 'We're so glad you repurposed this building and have this beautiful school here'," says Sandra. They were able to save an all but abandoned building in town and make use of the embodied energy there. The School saved time and money and helped the planet at the same time.
It was going to take some work to get it from where it was to where they wanted it, though. In the beginning, the space was divided up oddly and not in a way that would work for a school. So, they demolished the entire interior and built their dream school from scratch. Mansfield was on track to get a stellar specimen of an arts school to benefit hundreds of families in the community.
The School chose a local architectural firm, FiELD9: architecture. "When we got to the creative and artsy aspect of the building," says Sandra, "we knew FiELD9 would understand our needs." Their needs included having room to express oneself in a variety of mediums while also integrating the arts into learning the basics.
"When we got to the creative and artsy aspect of the building, we knew FiELD9 would understand our needs."

-Sandra Sutherland, Richland School of Academic Arts Superintendent
Now that they had an architect, time was of the essence to get the school ready for the 2016-17 school year. Sandra remembers creating the designs for the place with FiELD9 in a mere two days. "We didn't leave the table," she says. What they created was a school specially designed to serve the arts. Like Sandra dreamed, there were studios for art and music and a theatre that would seat 600 people. 
The classroom setup was unique as well. They were designed as pods of six classrooms and a common area, which would accommodate groupings of grades like K-2nd, 3rd-4th, etc. This would keep children in like age groups, improve security, and promote collaboration.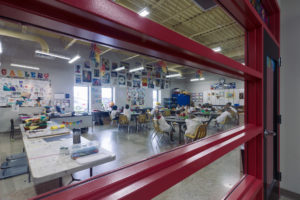 The School and FiELD9 worked with Adena Special Projects Group for the construction. Their job was not easy: because of the multiple previous tenants, much of the utilities had to be moved. Additionally, the HVAC system was not adequate for reuse. And everything had to be done swiftly. Sandra says she scheduled the movers to come August 15 so everything had to be completed by then or else they had to wait until the end of September, past the time when a school should open.
Despite the crunch, the first phase of the construction was completed on time and Mansfield said hello to a beautifully adapted building housing a renowned arts school. The last phase of construction was finished in the summer of 2020. "Quite the school, quite the building," says Sandra. She adds, "Kids say it doesn't look like a real school," and they're excited about the colors. Mansfield is fortunate to have an arts school like this available to their children and the school is fortunate to have an adapted building of their own design to live in.